Art 4 [CHANGE] explores the intersections of art, equity, and mental health. This Fall and Winter No Going Back LA will host community art events across Los Angeles County to support youth mental health through the vehicle of self-expression in a COVID-19 world.
These activities are to engage youth and community in dialogue and reflection on themes of racial equity, social justice, and mental health and well-being.
We are proud to support Self Help Graphics in Boyle Heights to host events that foster community building and collective healing that is much needed as we live through a global pandemic where many have lost their lives and sense of normalcy.
Join our Dia de Los Muertos Bike Ofrenda Workshop and Caravan with Sandra de la Loza On Saturday, November 6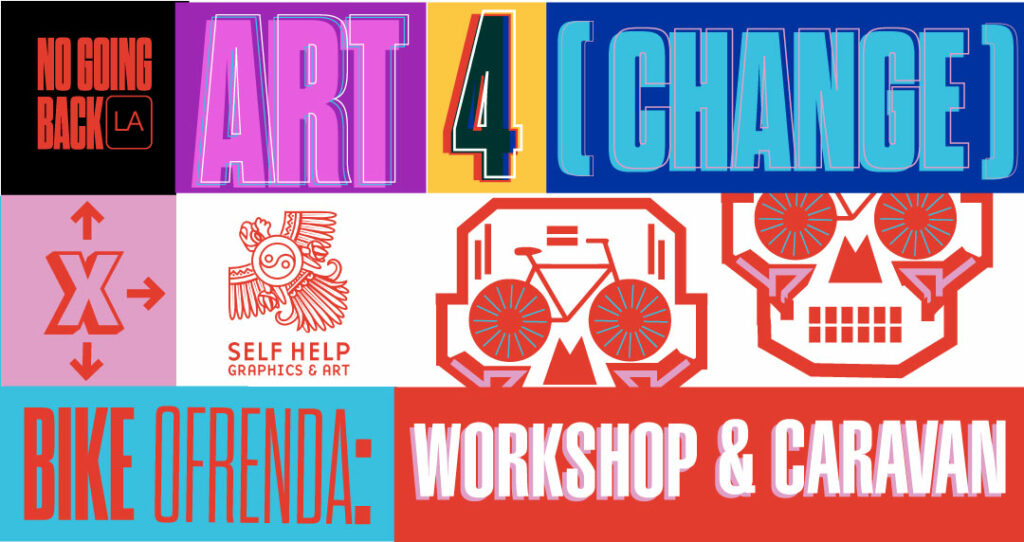 This free and family-friendly workshop will begin at 2:00 p.m. and provide participants with the opportunity to develop their own mobile altar by creating hands-on paper calacas, decorative wheels with handmade spokes, and create altars for handlebars or a cargo rack. Participants will depart from Self Help Graphics & Art at 4:00 p.m. on a tour to different community neighborhood altars, experience poetry and other performances throughout the ride.
Your registration includes:
•Bike altar Making Workshop: 2:00-3:30 p.m.
•Meet and Greet (safety talk and bike altar final prep and check): 3:30 p.m.
•Ride begins at 4:30 p.m.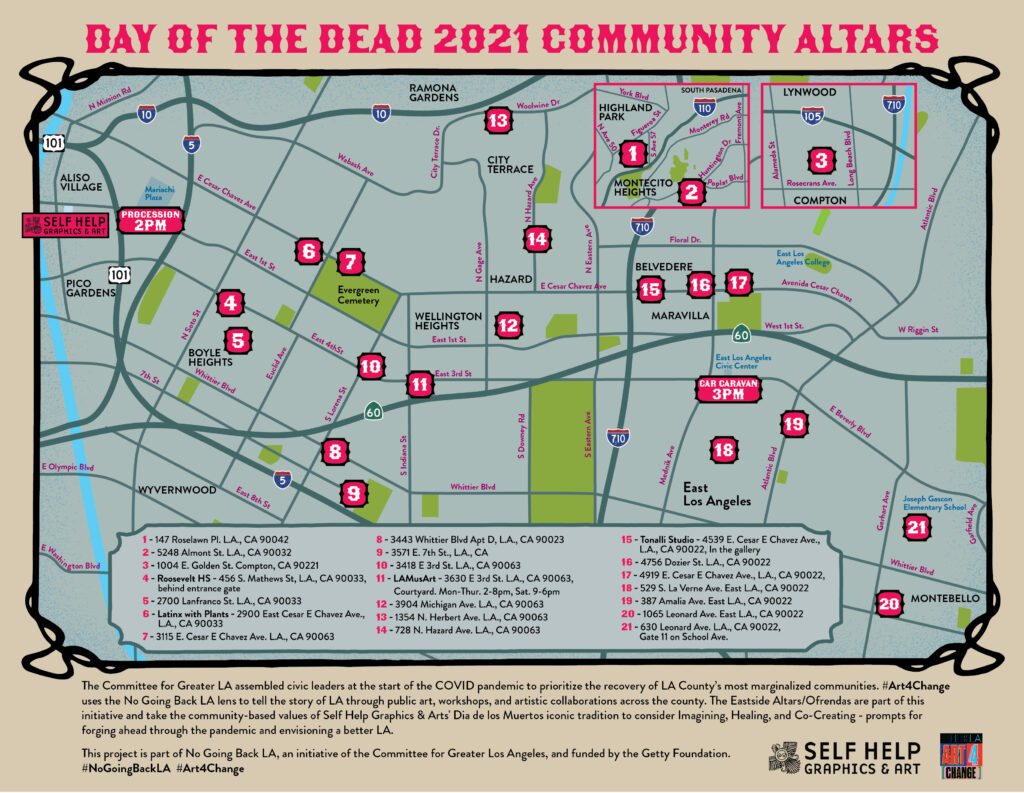 Registration is required on Eventbrite to participate. All ages are welcome and minors must be accompanied by a parent or guardian. You must bring your own bike and helmet to participate. All participants must wear masks, including vaccinated guests.
The bike ride is co-organized by Pauletta Pierce, Rio Oxas, Miguel Ramos, Sandra de la Loza and Alejandra Reyes.
This workshop is made possible with support from the No Going Back LA, Committee for Greater Los Angeles. #NoGoingBackLA #Art4Change