People of every age, ability, income, zip code, race, and ethnicity should be able to easily access their basic transportation needs.
The Challenge
Los Angeles has long been in a transit crisis. The city is infamous for its traffic and impractical dependence on cars. As we mark a year since the "No Going Back LA" report was released and look to support a Los Angeles recovering from the impacts of COVID19, fixing transportation for all Angelenos must be a focal point of our work.
Even before the pandemic, Los Angeles badly needed to reimagine its transportation system to deliver both equity and sustainability to all its residents and the community as a whole. As far back as the 1970s, the city's smog crisis pointed to the stark environmental toll of the city's dependence on the car — a fact only more clear now with the acceleration of the climate crisis.
Even though ozone levels are far lower than they were in the 1970s, more people die from pollution every year in Los Angeles than any other city in the U.S. — an impact disproportionately felt by low-income, urban communities and communities of color. Climate change similarly highlights deep-rooted inequalities, and the critical intersections between transportation, employment, health, and housing — all of which persist today.
As with so many other critical challenges, the transportation crisis has deepened amid the COVID-19 pandemic. Vulnerable communities depend on public transportation as a lifeline to critical services like healthcare, as well as employment. Curtailed services during the pandemic have created major hardships for essential workers that even waiving fees cannot rectify.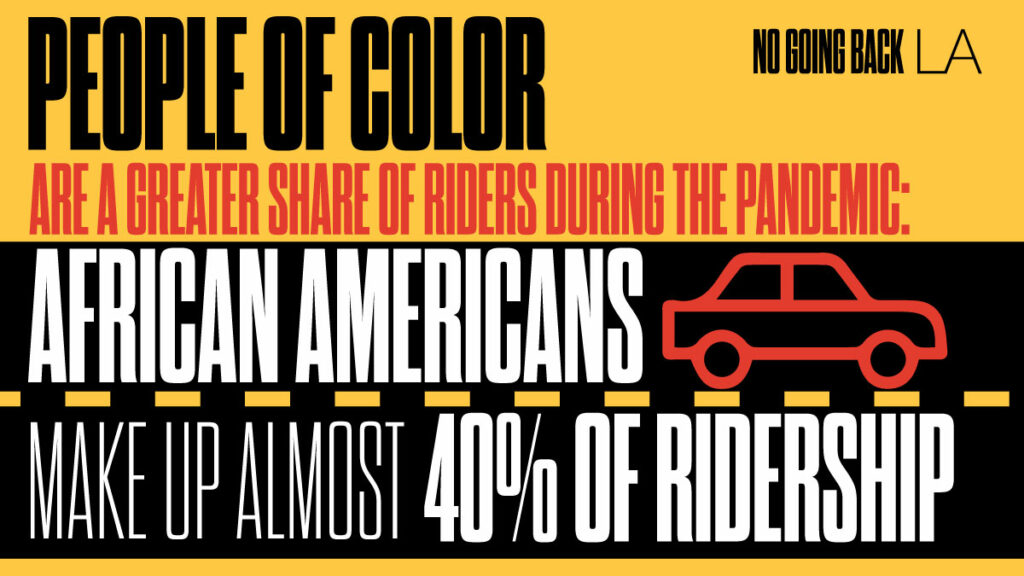 Metro Estimated Weekday Rider figures are still well below pre-pandemic levels.

Q2 2021 – Approaching 650,000
Q2 2020 – Below 440,000
Q2 2019 – Approaching 1,190,000
Unless we act now, this difficult situation may only further deteriorate. Already, some long-term riders with other options are reluctant to return to public transit because of fear generated by the pandemic. A sustained reduction in passengers means a fall in both funding (through federal funding formulas) and the level of service available (in terms of frequency and routes). And persistent obstacles to transit remain in place for vulnerable populations — lack of shaded seating at bus stops, for instance, endangers the elderly.
The Way Forward
Yet by instituting systematic changes we can reformulate the public transportation system to deliver a more equitable and just Los Angeles for all. To begin addressing the crisis, we need swift action in four key areas. First, we must overhaul existing transportation policies, both by revising fares and by reducing minimum parking requirements to ensure that all of Los Angeles has access to sustainable and reliable transportation. Second, we must work to fill gaps in the funding needed to develop and expand public transportation systems. Third, we must reduce barriers to active transportation—such as walking and biking—and encourage choice, especially by connecting riders to transit. Finally, we should work closely with grassroots organizations to create new participatory structures on transportation issues, mainstreaming the needs of vulnerable or marginalized populations.
Fortunately, important progress is already being made in these areas. In the policy space, Metro is developing free fare pilots for students and low-income riders and is not enforcing fares on buses in the interim, as the city recovers from the pandemic. Both LA County and community organizations have worked to improve access to transit. Climate Resolve, for instance, is helping make bus stops more accessible in vulnerable communities, while the Metro board is piloting its new $29-million Metro Micro mobility program, which offers convenient and low cost on-demand service for short distances — connecting vulnerable riders to transit.
With a unified, concerted effort, we can finally make Los Angeles transportation work for the public it is meant to serve. Recognizing the critical role that public transportation plays in our city — for the vulnerable, the marginalized, and scores of our essential workers — we must work to transform a fragile and unequal transportation system into one that undergirds the promises of economic opportunity, mobility, and equity that we hold so dear.