Closing disparities in healthcare interventions can promote long and healthy lives for all Angelenos
The Challenge
Among the most pernicious ways in which systemic inequity and racial discrimination manifest themselves in Los Angeles is in health outcomes. In the year since the release of the "No Going Back LA" report, we continued to see unacceptable racial disparities throughout the entire life cycle of our community members from reproductive and prenatal care, to maternal and infant mortality, to childhood care, to chronic conditions, and ultimately to morbidity and mortality. In Los Angeles, the life expectancy is approximately 6 years shorter for Black people compared to white people. Gaps in the provision of essential medical treatment for African Americans and Latinos are vast, especially in regards to mental health services. The lack of preventative care in low-income communities is a key driver of these health inequities that both reflects and compounds other aspects of systemic discrimination including economic insecurity and differing levels of access to health insurance and care.
Health interventions have become even more important during the COVID-19 pandemic. Throughout the pandemic, Black, Latino, Native, and other minority communities have been disproportionately hit hard. These communities were more likely to be exposed as they make up a great share of essential workers, more often live in overcrowded intergenerational households, and lack access to care and effective intervention. Compared to whites in Los Angeles County, the age-adjusted death count from COVID-19 per 100,000 residents for Native Americans is 1.6 times as large, 2.9 times as large for Latinos, 1.8 times as large for African Americans, and 3.5 times as large for Pacific Islanders. These terrible outcomes are in part due to chronic underinvestment in healthcare interventions in communities of color.
Even after the vaccine rollout, this inequality persists. Relative vaccination rates differ across race and ethnicity. As of October 21st, 2021, the percentage of the white adult population who had received at least one dose of a COVID-19 vaccine was 73%, yet it was only 64% for Latinos and 56% for African Americans in Los Angeles County. Black Angelenos have also seen increased infection and hospitalization rates, even as they fell for other groups.
Black Angelenos 3x likelier than white Angelenos to receive COVID-19 diagnosis
Those living in poorer areas made up a disproportionate share of COVID-19 cases
13.4% of LA County population live in high poverty households which made up 18% of COVID cases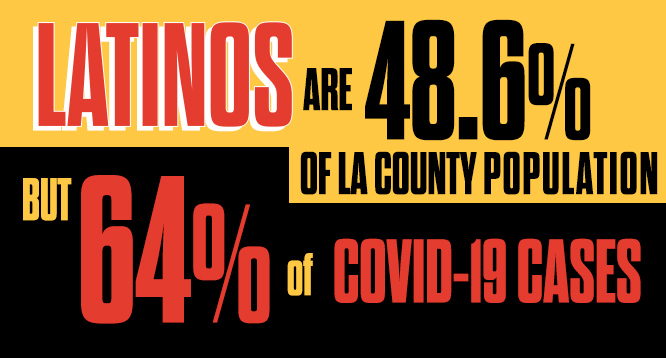 The Way Forward
Yet the challenge of healthcare intervention during COVID-19 has also demonstrated some of the ways we can invest in preventative care in underserved communities to close the gap. The Los Angeles' COVID-19 Emergency Fund addresses the most pressing form of preventative care right now — COVID-19 vaccines. Amongst other initiatives, the fund will expand the City's Mobile Outreach for Vaccine Equity (MOVE) program which prioritizes care for the communities hit hardest by the pandemic.
The way forward must also be driven by initiatives with greater support for community-based organizations. Community health workers, like those in LA County's Promotoras program, help build trust between service providers and potential clients. Culturally attuned community-based work that recognizes the economic and social determinants of health is the best way to promote health in underserved communities.