All residents of California, regardless of citizenship or immigration status, must enjoy cradle to grave core health care access at a rate they can afford from culturally competent providers
The Challenge
Until access to healthcare is truly universal, Los Angeles will not be a just or equitable city. A year has passed since the "No Going Back LA" report brought this issue into focus, and still, the stark dichotomy between the healthcare access of wealthier, whiter communities and low-income communities of color threatens LA's most vulnerable as well our collective civic life. In Los Angeles, life expectancy for Black people is approximately 6 years shorter than that of white people. The life expectancy in Los Angeles' wealthiest cities was 14 years longer than in its poorest in an analysis released before the pandemic. There are many factors responsible for these unequal outcomes including systemic discrimination, economic stress, and other unequal social determinants of health. Communities of color suffer disproportionately in this regard, often lacking health insurance and access to culturally competent care.
In terms of insurance, Angelenos of color are more likely to be under or uninsured. For instance, 22% of Latino adults in Los Angeles lack health insurance, partially due to immigration status. Being uninsured in this way increases the risk that these vulnerable LA residents may become burdened with exorbitant medical fees, further compounding pre-existing economic stress and resulting in a vicious cycle that almost always damages health and increases inequality further.
In addition to insurance gaps, communities of color face another barrier to accessing quality treatment due to the shortage of BIPOC physicians and multilingual, culturally competent healthcare providers. In Los Angeles, a city with one of the largest Latino populations, there is a severe shortage of Spanish-speaking doctors, a trend that extends to many other immigrant communities including Asian, African, and Middle Eastern Angelenos. As a result, patients are more likely to be put in uncomfortable situations with doctors who do not understand their culture or language and may even be less willing to address their complaints in a holistic manner.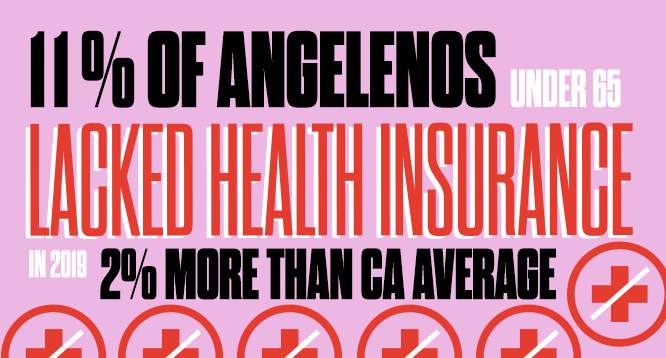 The pre-existing failures of the healthcare system for minority communities made the COVID-19 pandemic particularly devastating for the most vulnerable – Latino and Black residents in Los Angeles have experienced disproportionate infection and mortality rates throughout the pandemic. Black Angelenos in particular saw increases in COVID-19 cases and hospitalization rates, even as they fell for other groups. Beyond overwhelming our hospitals, the sheer volume of COVID-19 cases adversely postponed "non-essential" but still vital doctor's appointments for individuals seeking care. Given that Black and Latinos are disproportionately employed as essential workers with limited access to medical providers, these postponements further reinforced and broadened gaps in unequal healthcare access and potential outcomes in health.
The Way Forward
In order to fundamentally reform our broken healthcare system, it's imperative we adopt solutions that account for all of the interrelated factors impeding access to basic and emergency healthcare, from language and culture to economic stress and transportation, to immigration status and internet access. The latter is particularly important given in-person doctor's visits declined by more than telehealth appointments increased, and rural or lower-income patients used telemedicine less than affluent patients. This indicates that access to healthcare declined for lower-income residents. To be sure, the recent CA State expansion of Medi-Cal coverage to undocumented people over the age of 50 symbolizes an important step towards building a more inclusive and healthier future where all can access healthcare regardless of race, income, pre-existing conditions, or immigration status, but more work is needed.
Now is the time to rebuild and reimagine healthcare in a way that prioritizes those who have been chronically underserved. Beyond the essential morality and justice issues involved, this is a matter of life or death, not just for those who lack care but for all of us. The pandemic has shown us that the health of one person affects the health of us all. Reliable access to quality and culturally competent healthcare for the communities that lack it is both a moral and strategic imperative. Universal healthcare access is just and in the interest of us all.