Meet the Candidates: A Virtual Forum Series
Our partnership with Southern California Public Radio (SCPR) and LAist provides an in-depth multi-platform coverage on Los Angeles County civics to give voters the tools to understand their local governments and make sure their voices can be heard.
We invite you to join us for a series of live-streamed one-on-one conversations with candidates for the mayoral races ahead of the primary elections in June 2022. These conversations will give community members an opportunity to compare and contrast mayoral candidates across issues.
Did you know? The Mayor of Los Angeles is our chief executive of the city and has the authority to appoint general managers and commissioners, remove officials from city posts, and is required to propose a budget each year. Your vote, your voice, and your civic participation matter! Get informed and #GetBallotReady #LAVote22
Here are the details:
Live-streamed, in conversation with KCRW host Steve Chiotakis
Meet the Mayoral Candidates Live-streamed, in conversation with KPCC host Austin Cross
Note: The determination for candidate participation in this series was based on results of a February poll conducted by the Los Angeles Times and required a 3% threshold. Several people on the ballot had not yet announced their candidacies. A more recent Times poll can be found here. All candidates with active campaigns will be invited to participate in our interactive Meet Your Mayor questionnaire.
Kevin de León – Monday, April 25, 2022 at 6:00 p.m.
Kevin de León represents the 14th City Council District (Boyle Heights, Northeast L.A., downtown). He served in the Assembly from 2006-2010 and the State Senate from 2010-2018 (elected President Pro Tem in 2014). He is a former labor organizer for the state and national teacher's unions.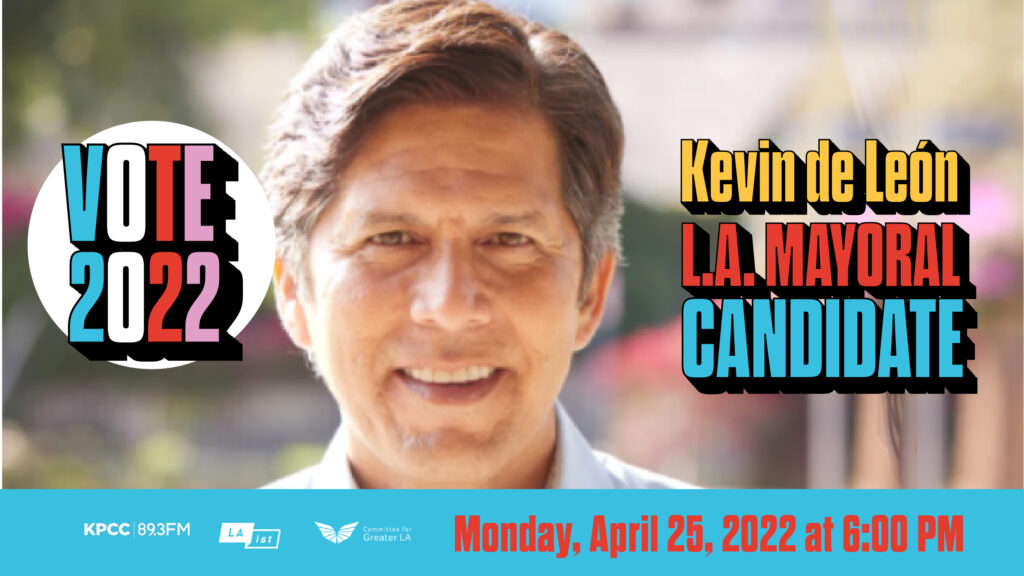 Karen Bass – Thursday, April 28, 2022 at 6:00 p.m.
Karen Bass represents the 37th Congressional District (Mid City, Westwood, Exposition Park, Baldwin Hills). She was elected Speaker of the California State Assembly in 2008, making her the first Black woman in U.S. history to lead a state legislative body. She founded the Community Coalition and the National Foster Youth Institute.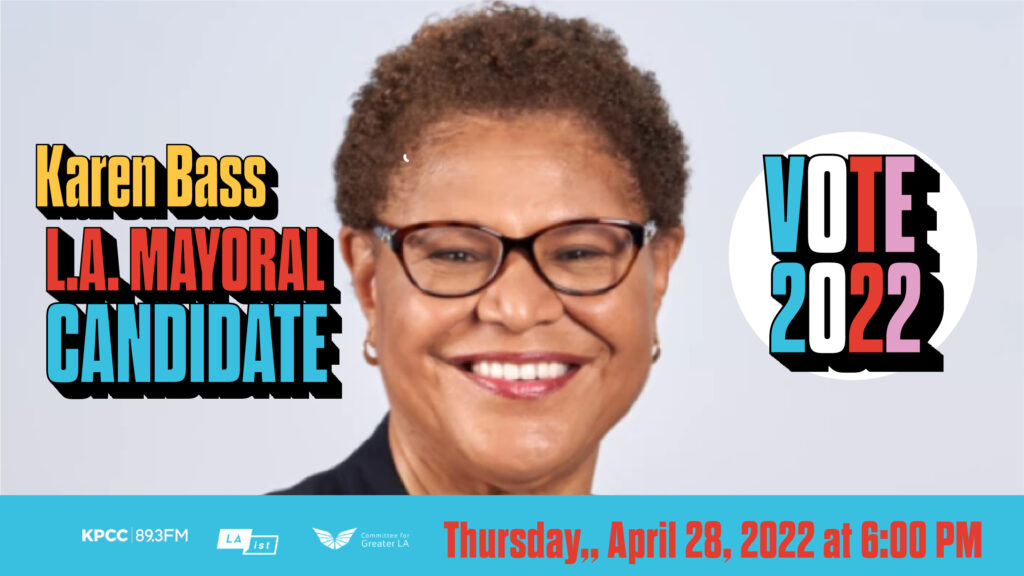 Gina Viola – Tuesday, May 3, 2022, at 6:00 p.m.
Community advocate Gina Viola spent years organizing around LGBTQ rights with Aids Project Los Angeles. She also was a mentor and board member for the organization Girls & Gangs. She has more recently turned her focus toward racial and social justice work.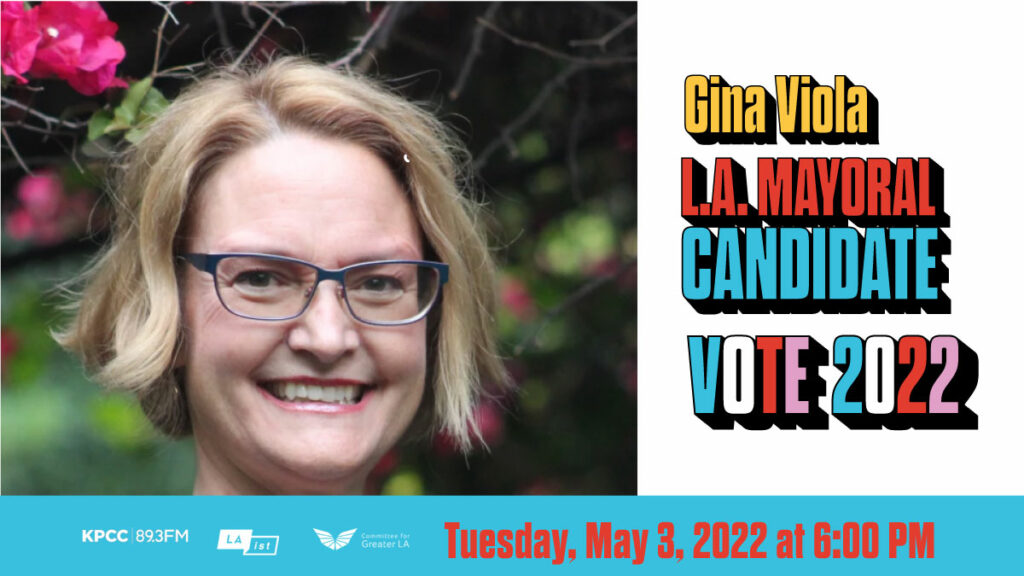 Joe Buscaino – Wednesday, May 4, 2022 at 6:00 p.m.
Joe Buscaino represents L.A.'s 15th City Council District (Watts, Wilmington, San Pedro, Port of L.A.) and is a former First VP of the National League of Cities. He served for 15 years in the LAPD and remains a reserve officer.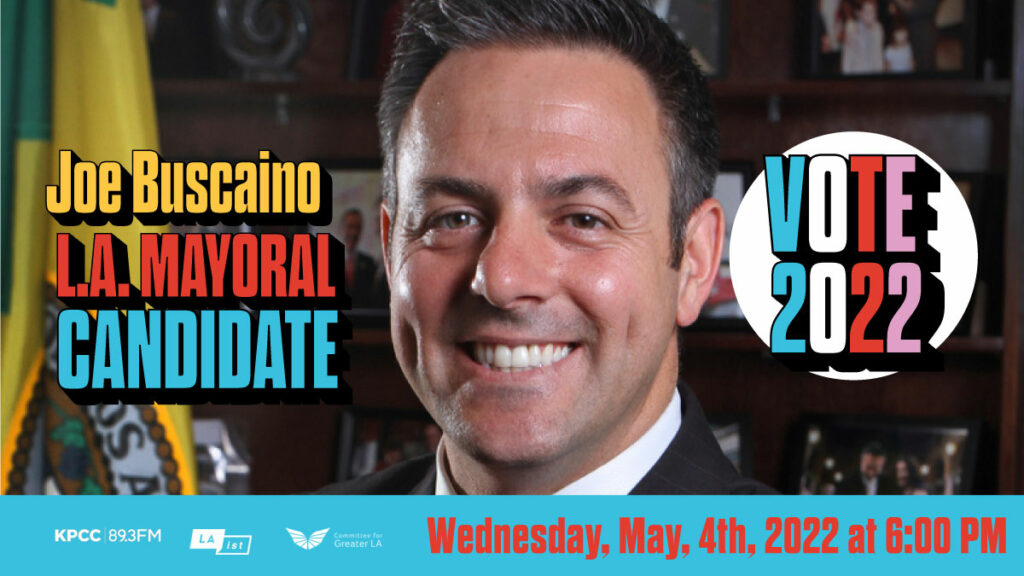 Mike Feuer – Thursday, May 5, 2022 at 6:00 p.m.
Mike Feuer is the current L.A. City Attorney. He served in the Assembly from 2006-2012 and on the L.A. City Council from 1994-2001. He previously directed Bet Tzedek Legal Services and has worked in private practice.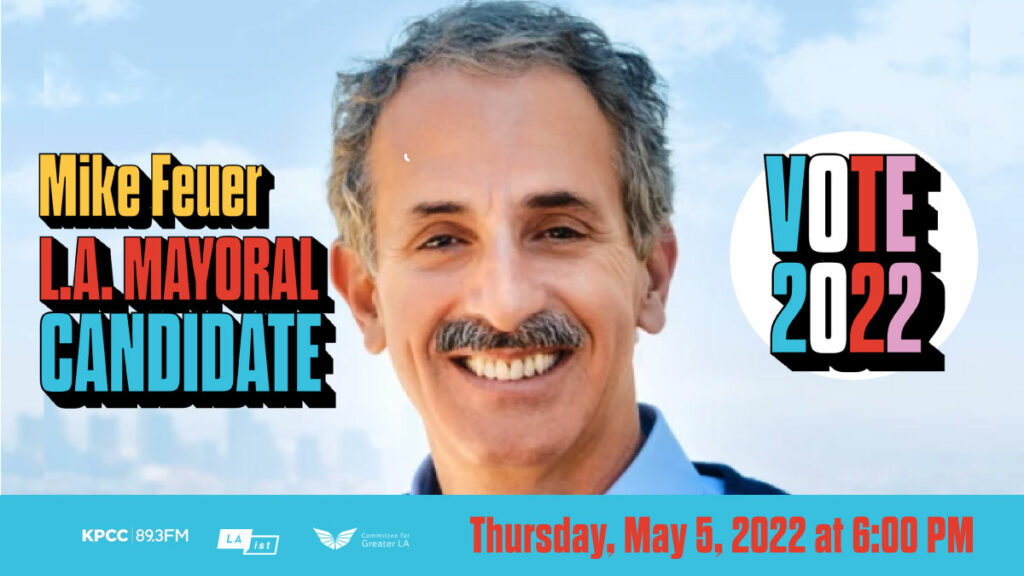 CANCELLED at the candidate's request: Rick Caruso – Friday, May 6, 2022 at 6:00 p.m.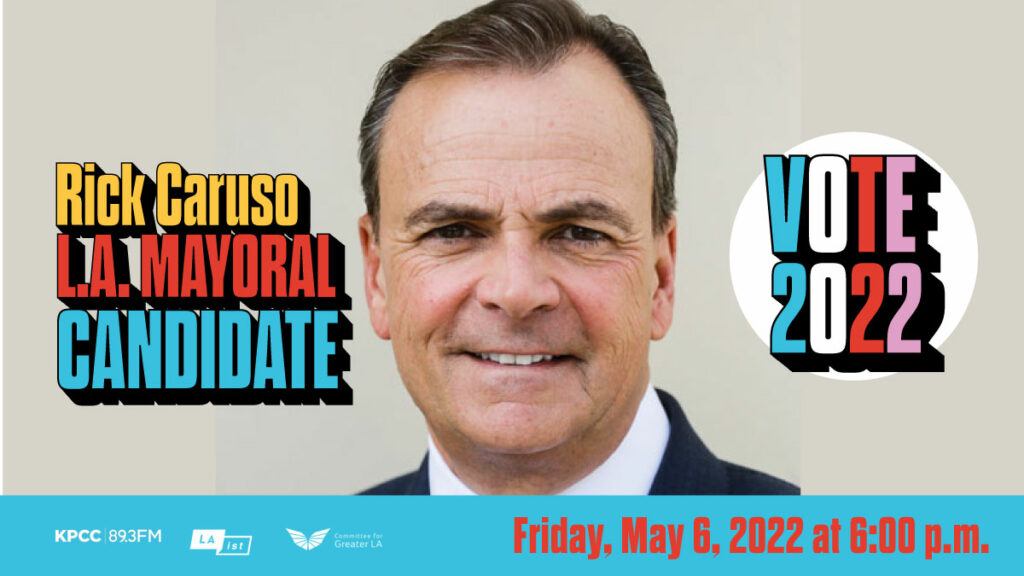 Questions are now closed, please listen in staring Monday 4/25!
In addition to these forums, SCPR will publish a comprehensive library of civics explainers on how our local government works and how community members can engage. These explainers will exist both digitally on LAist and be distributed physically as mailed fliers or on community boards.
THIS COVERAGE WAS MADE POSSIBLE THROUGH SUPPORT BY THE COMMITTEE FOR GREATER LA IN PARTNERSHIP WITH THE CONRAD N. HILTON FOUNDATION AND THE WEINGART FOUNDATION.