We must invest in permanent alternatives to incarceration.
The Challenge
Incarceration has stolen the lives of too many Angelenos and has disrupted our most vulnerable communities. As illustrated in last Fall's "No Going Back LA" report, Black and Latino people make up a disproportionate share of the incarcerated population in Los Angeles, as do people with mental health needs. Time in jail for these populations is marked by racism and violence with little done to help people readjust to the world as they cope with these traumatic experiences and reintegrate into society.
And the pain doesn't stop there. Incarceration has a ripple effect on the families, friends, and communities of people who are incarcerated, impacting areas such as mental health and economic stability. Indeed, people of color are more likely to live in neighborhoods that are over-policed and under-invested in. Once incarcerated people leave jail, there are so few resources available to them that often they end up back in the same precarious situations that led to incarceration in the first place.
The lack of care for Angelenos caught in the criminal justice system was made even more obvious by the COVID-19 pandemic. The inability to social distance or practice proper hygiene in overcrowded facilities meant that the virus could spread exponentially. As of August of this year, more than 4,500 inmates tested positive for COVID-19 in Los Angeles County jails and this is likely an underestimate of the true number. Similar inhumane conditions led to outbreaks in jails, prisons, and immigration detention centers across this country.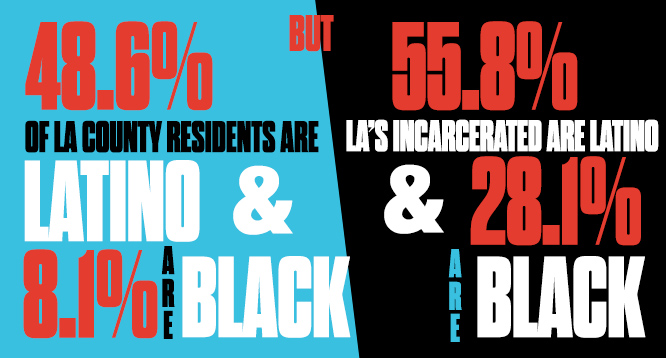 The Way Forward
Fundamentally restructuring the racist system means changing our priorities. Instead of the rule of law and punishment, we must focus on care, counseling, and treatment. Organizations like Dignity and Power Now are leading community organizing, policy development, and advocacy efforts to divest from the carceral system and invest in community-based services and alternatives to incarceration in Los Angeles. They work in coalition with grassroots organizations led by and in solidarity with community members impacted by policing and incarceration, including: The JusticeLA Coalition, Reimagine LA, Check the Sheriff Coalition, Care First California and Californians United for a Responsible Budget.
In line with the will expressed by Angelenos in approving Measure J, Los Angeles County has begun to reimagine our jail system with a "Care First, Jail Last" approach. This movement to prioritize care over-incarceration has seen the banning of for-profit carceral facilities and the investment in treatment including community reconciliation and intervention work and dispatching mental health experts instead of police officers to non-violent situations.
In the City of LA the new REPAIR Innovation Fund aims to support job creation and organizational support in community intervention, racial healing, justice, and reconciliation work. Other initiatives to provide support instead of a police response include the 24/7 "Alternative Dispatch" pilot for non-violent emergencies involving people experiencing homelessness and the Therapeutic Transportation emergency response pilot, where mental health experts are dispatched to respond to certain 911 emergency calls that would otherwise be routed to law enforcement agencies.
More compassionate alternatives to incarceration must be found and implemented. We must do all we can to support programs that respond with care instead of arrests, uplift the voices of those who have been affected by incarceration, and raise awareness of the inhumanity and systemic racism that exists in our jails and prisons.