Full and functional access to the internet is a civil right
The Challenge
Modern society recognizes certain services as essential public and common goods. When thinking about what we deem essential, it is important to remember that the necessities for modern life evolve over time. The pandemic illuminated how critical the internet is to life today. The ability to access telehealth appointments, remote school and work, as well as social connections over the internet was a lifeline for many over the past 18 months. Once viewed as a commodity or mere convenience, high-speed internet access now demands to be seen as a universal right given its centrality for individuals and families to fully and equitably participate in society.
A year since the release of the "No Going Back LA" report", access to broadband remains piecemeal and unequal in Los Angeles — reflecting our city's deep history of racial discrimination — with the market failing to provide high-speed internet to all. Unequal access to fast, affordable and dependable internet service contributed to disproportionate impacts on BIPOC and low-income households during initial and reinstated stay-at-home orders in Los Angeles. Those with slow, unreliable, or nonexistent Internet service experienced disrupted access to remote schooling, telehealth, remote work, e-commerce, and safe, social connection. Similarly, many government services intended to keep people safe and informed — including booking COVID-19 testing and vaccines — have been provided online. Yet, those most vulnerable and in need of these services are less likely to have reliable internet access.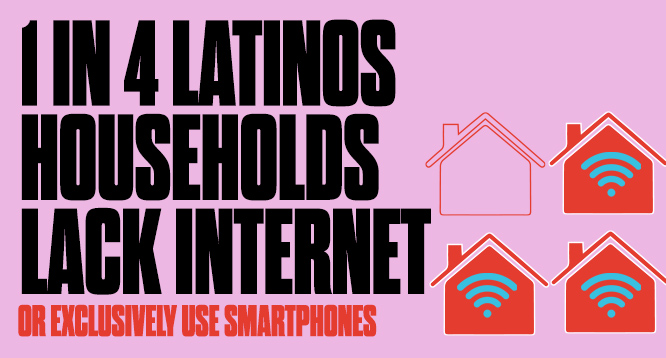 Unequal internet access has been especially harmful to children of color enduring remote education. Of the school-aged children who did not have a computer and high-speed internet at home, 37% were Black and 39% were Latino, compared to 13% that were white. Already facing disproportionately strained access to lifelines such as economic support, healthcare, and housing, communities of color in Los Angeles will continue to be left behind so long as this technological gap is not fully and equitably resolved. Just as societal well-being swiftly deteriorates without effective systems in place to provide electricity, water, sanitation, infrastructural maintenance, and TK-12 education, the same can be said for the failure to prioritize full and equal access to the internet.
The Way Forward
The pandemic has compelled a widespread realization that we need to invest in our digital infrastructure. On the national stage, the Biden Administration's American Jobs Plan is prioritizing widespread access to high-speed broadband, aiming to reach 100% coverage across the States.
With this strong Federal interest in advancing digital equity, related action at the CA state level also shows potential. California's recently passed $6 billion digital infrastructure bill will broaden "access for California families by prioritizing the unserved and underserved areas, facilities, households, and businesses that remain disconnected in the digital era." Further plans for California will include long-term establishment of a statewide high-speed middle-mile infrastructure that local service providers can tap into. On the local level, Get Connected Los Angeles will use over $2 million to provide wi-fi access points in communities and create connected innovation zones for residents and businesses to build on new access.
Even so, it remains important to acknowledge the limitations of these government initiatives. The American Jobs Plan, for instance, draws its funding of $100 billion based on an FCC map of access that is likely an undercount of the true population of unconnected Americans, many of whom are in Los Angeles, given its size and heavily immigrant population. The Committee for Greater L.A.'s Internet Action Team is giving voice to this concern. Emerging digital infrastructure funding must be based on accurate data and continue to be spent in a way that enhances and builds opportunity for systemic equity, not one that further subsidizes an unbalanced system that undervalues and omits low-income and black communities.
To ensure that equity is at the forefront of building the digital infrastructure we must shape the way policymakers think about the internet — we must promote that it is a right, not just a convenience for those who can afford it. We need to fundamentally rethink our digital infrastructure and how we measure access if we want to rectify the deep-rooted inequities and consequences of digital redlining and chronic underinvestment.