We must create networks of support, protection, and mutual assistance that will protect all children in Los Angeles
The Challenge
Schools are a haven for many young Angelenos—especially from unstable and often troubled homes. Yet the COVID-19 school closures exposed how urgently we need to create a more resilient system that can ensure the well-being of all our children and families. In the past year since the release of the "No Going Back LA" report, many families have undergone and continue to bear tremendous financial and mental strain along with diminished access to many of their social supports.
In the first two months of stay-at-home executive orders in 2020, contacts to the National Domestic Violence hotline increased by 9%. Conversely, the early months of the pandemic in LA County saw a disturbing decline in the number of reported cases of child abuse, with limited social contact outside the home reducing the likelihood of it being reported. The social variables brought into play by COVID-19—stress, medical threat, bereavement, social isolation, financial strain— in combination with the temporary closure of community support sites have created an environment in which the risk of familial violence and abuse is higher. In turn, stay-at-home orders and physical confinement have only amplified many of these stressors and exacerbated the cycle of abuse and neglect in some homes.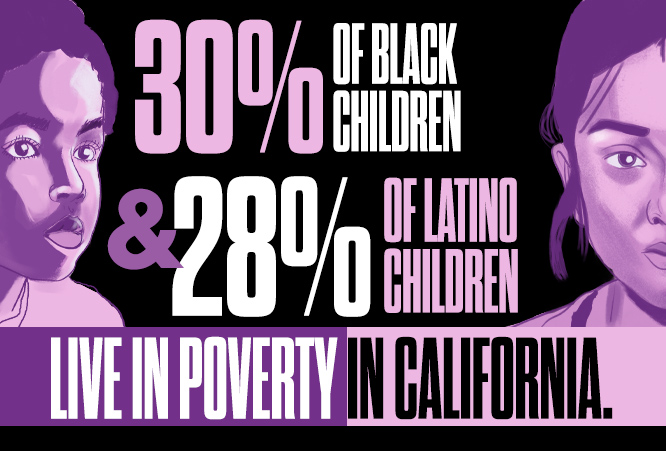 For our children and families, this can mean either vastly under-reported cases of abuse, or moving children into the County's already overburdened foster care system. COVID-related lockdowns have created barriers that often prevent third parties from reporting abuse on behalf of victims, not to mention delayed court resolutions on cases of intimate partner violence and child neglect and abuse. When cases are only reported and resolved in court, this ultimately heightens our dependency on an already strained foster care system, which for vulnerable children often acts as less of a safety net and more of a path to negative social determinants, including exposure to drug use, sexual exploitation, and other serious adversities. Due to systemic discrimination and racism, children of color are not only more likely to come from homes facing hardship, but more frequently removed and placed in foster care.
The Way Forward
We must overhaul the way we protect and care for our children. To be sure, while many children do need the protection that foster care can offer, utilization of this system should be viewed as a last resort. Throughout 2021, almost one-third of cases of monthly reported child maltreatment in LA County involve "general neglect", in other words, a family's inability to provide adequate food, clothing, or shelter. By removing them from their homes and placing them in the already overburdened and often unsafe care system, we are essentially punishing these children and their families for being poor.
Instead, we should seek to address the underlying conditions that cause financial hardship in these vulnerable communities. Fortunately, some important work is already being done on these issues. Los Angeles County has already pledged $100 million to begin implementing Measure J, the "care first, jails last" initiative, which seeks to shift resources away from incarceration and toward support. Further, 7.8 million eligible Californian children are set to benefit from the Federal Child Tax Credit, which will provide assistance to over 748,000 households with children 17 and younger in LA County.
But while the Los Angeles community is rallying behind the need to protect our children—with the city's philanthropic community giving more than $19.7 million to organizations addressing Child and Family Well-Being in the last year—more needs to be done. We must invest in, and empower communities to create localized, preventative support systems such as Mutual Aid projects, that can fulfill the unmet needs of our most vulnerable children and families. Most importantly, we must take this opportunity to fully reimagine how we want young Angelenos to be protected, supported, and cared for.